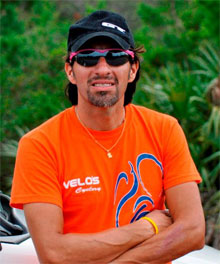 Coach Leandro Contreras was born in Santiago, Chile and began racing at the age of 16 winning his first race. From there Coach Leo didn't look back and developed into one of Chile's premiere professional cyclist. Along the way he participated in six Vueltas A Chile (Chile's National Tour) and other numerous and prestigious South American races.
In 2001, Coach Leo moved to Florida and his first experience with local cyclists was during the fast Saturday morning ride out of Lake Worth. During the ride, he broke away at the turn around point and continued way beyond Lake Worth Beach without anybody in site. Apparently, nobody told him that the ride finished at Lake Worth. From that day on Leandro has been a force to be reckoned with at both the local, regional and national level.
Also, with his arrival in America he took the opportunity to expand his experience in running, duathlons, and triathlons. He has competed in multiple events like the Boston and New York Marathon, The Panama City Beach Iron Man and the highlight thus far, traveling and racing against the worlds best at the World Duathlon Championship in Italy in 2008 as a member of Team USA.
Currently, coach Leo races with the AG/Pink Panthers Cycling Team at the 35+ and 1,2, Pro level. He has been racing in support of his teammates and they are now leading the $100,000 Bill Bone Pro AM race series in the 35+ category. He has also consistently finished in the podium this year and took the top prize at the PAL Stage Road Race in Clermont, FL., amongst some of his wins for 2011. He is also the head coach of the new Florida Velo's N2N Pb LCTrainSmart Junior Cycling Team for 2012.
After many years of competition Leandro has finally decided to share his experiences, knowledge and philosophy with the running, triathlon and cycling communities. Coach Leo is a certified as a USAC coach and has been coaching runners, triathletes and cyclists whether they are just starting out as juniors or are competing at the highest level of the sport since 2007. So, if you are looking for a coach to get you on the right track to meet your goals, you are welcomed contact him via email CoachLeo@LCTrainSmart.Com or better yet call him direct at 561-285-BIKE.